People love to visit Romania because of we have a gorgeous country and because of the low prices we have here (travelers believe that, we don't). Most of the country territory is attractive , from our many mountain resorts to Danube Delta and the Black Sea shore.. You can practice here almost every form of tourism. You can do any winter sports, any sea related sports, fishing and hunting or do anything you want because you have where to chose. The accommodation is pretty cheap compared to other countries if you chose to book a trip with a tour operator, if you come here by your own you might pay a little more. The food is cheap, alcohol is very very cheap (many scandinavian tourists chose visit sea shore very often for the fun here , low prices to alcohol and for the hot chicks). You can choose to stay in a 5* hotel room or get a cheap mountain chalet room for 10$ per day or stay at the locals with all included.

Many tourists leave Romania offering us a good feedback , but n
ot all enjoy their journey here... Well this rule is about everywhere
(see Egypt for example where everything looks amazing in brochures but when you arrive there you don't see what you've been promised to see. You can't satisfy everyone, but it happens alot here to meet
unsatisfied customers. Most of them are not satisfied because of the services which are not exactly the way as they expected to be. They have a bad taste in their mouth some times from the very first minute they arrive in Romania, starting at customs where they meet our the jerk customs officers. They always must act like jerks, I dont know why, I think they feel much powerfull when they do that. Anways, forget those idiots and meet the unhospitalier hotels staf
f. Sometimes you have to beg them to change your bed clothes or do a service that they are indebted to do it for free. Offer them a good tip and in return you might receive a very false smile or a funny invidious look.
I almost forgot to mention you about our taxi cab driver
s (or should I say rippers?) You don't have to look for them, they will recognize yo
u that you are a tourist and convince you to get in their dirty pirate cabs. If you did the mistake to have a trip with them, don't make any scenes, just pay them and consider that a personal mistake for don't opening your eyes carefully and order a cab by phone. If something goes wrong call the police, get their plate numbers then fill a complaint (which is useless). Oh and before them, you have a high chance to meet a beggar who will try to get some money from you. While they are around you, take a close look on your luggages.

You can get a pre-paid phone SIM card as you arrive here from any store, gas station, airport, train station, etc. It costs around 10$ with with ~6$ available credit. Every pre-paid card has roaming active and you can call you friends or relatives abroad in a matter of minutes using a regular cell phone.

If you need any last minute travel info's email me with any questions and I'll respond to you in a few hours.
Travelling to the Black Sea shore resorts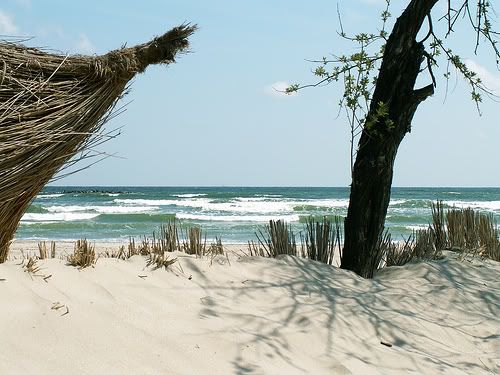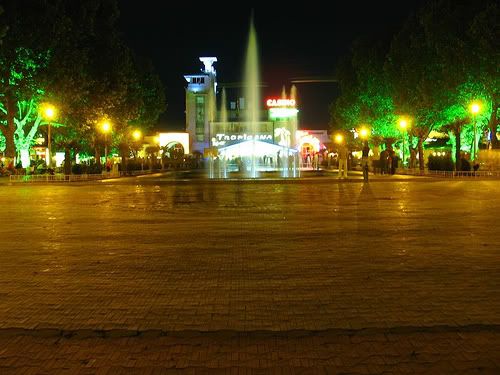 The summer season starts from May 1 and lasts till September 15 usually. But it's recommended to arrive here from the beginning of June till 30 August to enjoy a good weather (and beautiful woman's). The main seaside resorts are: Mamaia, Eforie, Costinesti & Neptun.
You can get to Mamaia, the main resort by car (2:30 hours far from Bucharest) or train (around 3 hours by train) or you can chose by plane, but the airport is kinda far from Mamaia and it's not recommended... View Mamaia resort from satellite here.In paralel with Mamaia is a nice lake with where you can find a terrace to have a meal or get a drink, or you can have fun with a ski-jet or practice other sports on the lake.
Mamaia is the one I recommend it to you, it's linked to Constanta city and it is very modern, populated mainly with people under 30's. Many great clubs can be found here (house clubs with great parties every weekend and DJ's all over the world like: Hernan Cattaneo, Fat Boy Slim, John Digweed, Deep Dish, Tiesto, Paul Van Dyk, Shiloh, Armin Van Buuren, Sander Kleidenberg, etc). You can also find on the beach lounges and mini bars to serve a drink or get a meal. Many new are being built currently and the old ones are renovated. Prices to the hotels vary during the season based on the month you arrive and week and the hotel * qualification. Many small stores can be found here too (most of them suck because of the merchandise which is imported mainly from Turkey, but you can find good stores in Constanta). Romanians do not negociate the prices, eventually if you are not carefull enough to read the correct price they raise the price without your knowledge. Be carefull when you pay with a credit card and try to observe if other dispositives beside POS are used to swipe your card ! Same rule when using ATM machines, if anything looks suspicious for you stay away from that ATM. A cool aquapark can be found too. You won't be bored for sure here if you chose to stay for about 10 days. Travellers chose Mamaia for the best romanian chicks that can be found here during the summer time (hint: they can be picked up very easily since each one of them believes that foreigners are full of money and they will marry them or buy them expensive stuff :D) so enjoy your trip to Mamaia, you will return for sure. It's a tiny replica of Ibiza with great clubs to party.
The rest of the seaside resorts like Eforie, Costinesti and Neptun kinda suck because they are less fun and modern. Many red necks there, kinda lame atmosphere. I won't recommend them. Oh, I almost forgot about Vama Veche, it's very popular here for the rockers, bikers and unprejudiced people. It worths to spend a day here and see what I'm talking about. It's around 55 km far from Constanta, a 40 min trip car/train/maxi-taxi. Very very low prices in Vama Veche and ... weird people :) If you feel weird, join them !
I hate the way our country is represented internationally. They don't do anything about that, many people find about Romania by word of mouth or accidentally from the Internet. That is sad. The 2006 summer season was pretty bad since TUI , a very popular tour operator in western europe decided to discontinue his plans with Romania. Almost no scandinavian tourists were here , beside the one who came here individually. TUI has chose to send it's customers to our neighbours in Bulgaria. No comment on that.
A visit to Danube Delta ! You can't miss it for any reason if you visit Romania ...
The Danube Delta is the largest water reservation from Europe ! It covers 2.681 km2. It's an exotic spot with over 1200 species of trees and plants, with the largest ornithic fauna from the continent (more then 300 species including an unique colony of pelicans) and inchtyologic (represented with more then 100 species like Danube hering and sturions offering the precious caviar).

See a map from satllite here

.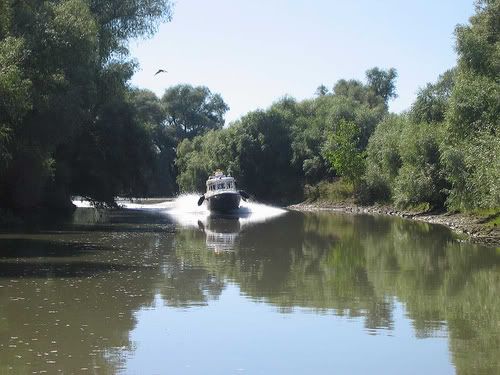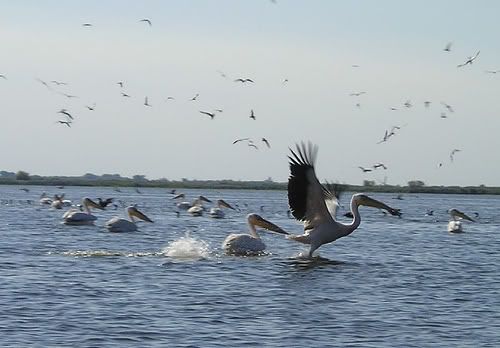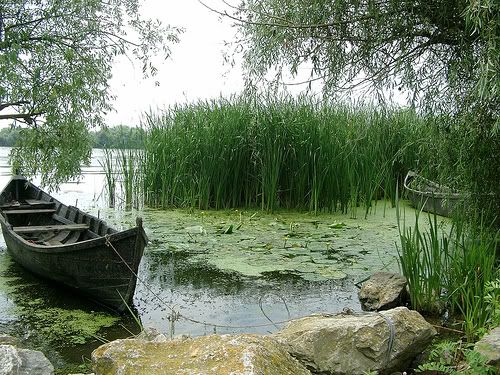 I highly recommend you to see this album here

http://s110.photobucket.com/albums/
n93/romaniainpictures/DANUBE%20DELTA/

with gorgeous pictures from Danube Delta ! It worths every $ to have a trip here. The acommodation prices are very very very cheap and the food ... the food you can serve here cooked by the locals is awsome ! I hope you visit the photoblog upper and create a first impresion about the Danube Delta from the pictures.
If you plan to have a trip here, just contact a local tour operator from your area to see if they have any available trips to Danube Delta or feel free to email me and I will reply to you as fast as I can help you with some tips: how to arrive here, acommodation & prices and other usefull info.
Some short info about the Danube Delta economy: people earn their money from fishing , recently (4-5 years) many modern guest houses have been built to grow up their revenues and reed operation. Their way of life is unchanged by centuries.
If you want to build a house here you can buy some land here, but it now while is cheap. After we integrate in European Union I think the prices will explode since the terms and conditions for foreigners to buy land here will be less severe then now.